Boost your brand's social media influence
At RBH Digital, we are a top-tier social media marketing agency with a team of exceptional professionals who are dedicated to helping your brand reach new heights. Our focus is to build a strong connection between your social media presence and on-site traffic. We offer customized social network marketing services that cater to businesses of all sizes, from local small businesses to global Fortune 500 companies. Our comprehensive social media strategy is designed to establish customer loyalty and trust in your brand, ensuring long-term success. Let us help you bridge the gap between social engagement and on-site traffic, and elevate your brand's social media presence to the next level.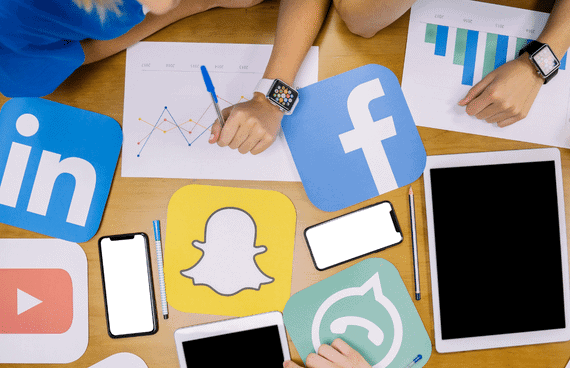 Take your social media game to the next level
RBH Digital will focus on developing a consistent brand voice, using visual content, incorporating user-generated content, utilizing chatbots, implementing  advertising, and staying up-to-date on social media trends. For us, continuously evolving the approach is key to achieving greater success.
To kick off our social media management process, we'll pair you with an adept social media consultant who will serve as your main contact and oversee a team of skilled SEO experts, a copywriter, and a graphic designer to manage your accounts. Our team is well-versed in social media marketing and will conduct comprehensive research on your industry to create a tailored strategy.
Our team will conduct a thorough analysis of your current social media strategy by examining your existing accounts. Along with this, we will also perform a competitor analysis to evaluate your social media presence and performance in comparison to your direct competitors, identifying any noticeable gaps. By combining these two analyses, we can determine your strengths, weaknesses, and areas for potential growth. Additionally, we will identify popular communities, keywords, and topics relevant to your industry, allowing us to customize our social media services to your business needs and create content that will garner the most attention for your brand.
A robust social media marketing strategy is imperative for achieving social media success. To ensure that you post only on platforms that align with your business objectives, audience, and budget, your RBH Digital team will develop a tailored plan. This strategy will also encompass a content plan that aims to enhance brand awareness and drive valuable engagement with your consumer base. If you're interested in exploring shopping widgets or other applications, we have a knack for evaluating their effectiveness and integrating them into your comprehensive social media campaigns.
Create and Optimize Social Accounts
RBH Digital takes care of everything related to social media accounts, whether you require new ones or want to update existing ones. We understand that it's pointless to have a social media account that is not utilized to its full potential, and that's why we'll make sure that all the foundational elements of a strong account are in place, such as optimized profile, custom usernames, accurate business information, latest profile and cover pictures. We'll ensure that all aspects of your page align with your branding guidelines, including images, business information, and posts. We'll also strive for a consistent tone across channels, so your brand voice remains robust, regardless of where your audience discovers you.
Create Content and Design
Sharing high-quality content is a critical component of your business's social media marketing strategy. As your social media marketing agency, we'll create a well-organized content calendar that outlines all of our creatives for the month and present it to you for approval. This content mix will include promotional and branded content tailored to your target audience. Post formats vary considerably, depending on the campaign and your analytics data that informs us of what works with your audience. Some examples of the post types you can expect are original images, short articles, inspiring quotes, infographics, product photos, industry news, advice and tips, company news, testimonials, and flash sales. All of these formats are designed to be shareable and engage your followers' attention.
Staying actively involved in the conversation on your social media pages is essential. Enhance your online reputation with our Facebook and Instagram real-time management service and play a prominent role in your brand's discussion. With our social media service, you'll have insight into who's talking about your brand and in what context. We'll take a proactive approach to engagement by responding to both positive and negative mentions. Additionally, we'll forge non-competitive industry partnerships to increase brand recognition and drive engagement. These partnerships will bolster your marketing efforts and allow you to access a more extensive pool of leads.
Successful social media management requires agility and responsiveness. We'll monitor your social media analytics using a variety of digital reporting tools and adjust your social media marketing strategy as necessary based on the data we gather. RBH Digital can assist in interpreting all analytical data that comes through your social channels and help you filter out the irrelevant metrics, so you focus only on the numbers that matter most to your goals. This approach ensures you have a clear view of your performance, and we have actionable insights to improve your impact on your audience.